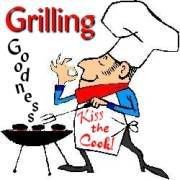 It's that time again...Time for some more
"Grilling Goodness."
If you would like to join in all of the fun, just click
here
.
Tina
would love to have you all participate!
Now, on to the grilling.....
1. Do you send out Christmas cards? Have you done it yet?
I used to send out Christmas cards every year, but I have not done it in the last couple of years. And this year I'm not sending them out either (hanging my head in shame). Here is the last Christmas card that I sent to family and friends a few years ago.
God willing, I will send some Christmas cheer to all of my family and friends next year.
2. When you cook chicken, do you cook a whole chicken?
I will be honest and tell you all that I am a boneless, skinless chicken kind of girl. That being said, I have cooked chicken with skin and bones still attached, but I disliked every minute of it.

There is an episode of "Little House on the Prairie" (which I love) where Pa brings Ma a turkey home for Christmas, and she is SO excited at the sight of it.
While watching that episode for the fortieth time, I looked at Shannon and said (in my most serious of voices), "Do not be confused. I would never be excited if you brought me home a bird (with its head and feathers still attached) to eat for Christmas dinner."

I'm just saying is all.
3. What is your favorite Christmas movie?
I love all kinds of different Christmas movies, so picking just one is entirely too much pressure. That being said, I will share with you four Christmas movies that I LOVE! And these are in no particular order, mind you.

I love Nancy McKeon in Lifetime's "Comfort and Joy." I just watched it last week. It is lovely.
This next movie is one you may remember if you are old like me. It is called "The House Without A Christmas Tree." My boys and I love this movie so much. It was based on a book by Gail Rock with the same name. It is about a girl named Addie and her family at Christmas. (Gail Rock wrote four books about Addie, and we loved all of them. Addie is one of our all time favorite fictional characters.) It doesn't come on television any more, but my mom ordered it for us one year for Christmas on VHS.
Of course, no Christmas would be complete without Charlie Brown, amen?
;)
This last movie is another one that Shannon and my boys also love to watch. It is called "Surviving Christmas." It stars Ben Affleck, Christina Applegate, and James Gandolfini. It is

SO

funny! It makes us all laugh out loud!
:)
4. How often do you go to the grocery store?
When I am not busy having back surgery, recovering from back surgery, dealing with nerve damage, and limping, I go to the grocery store at least once every week. But when I can't go, my sweet hubby goes by himself. Every. Single. Week. Thank you, Shannon. And you are very welcome, Walton family. ;)
5. Do you play games online?
Um, no!
6. Do you make your bed everyday?
Of course, doesn't everybody? Besides, Allie doesn't like to lie down on an unmade bed. ;)
7. What is one of your favorite websites? (Hopefully this is understood, but please share only the G rated sites! lol)
I would have to say that my new favorite website is TitleTrakk.com, mainly because they let me win their Fantastic Fall Giveaway.
Speaking of which, Friday Daniel got the mail, and he came in carrying this

BIG

box.
I opened up the box and saw this sweet message.

Here is what I won.....

These three movies......
All of these Christian music CDs......
And last but not least, all of these books.......
I have never won so many items

in my life

!
Thanks, TitleTrakk.com, for picking me, and thanks, Mari, for letting me know about the contest!
8. What gives you the most laughter in life?
My hubby and our sweet boys.....
*Sigh*