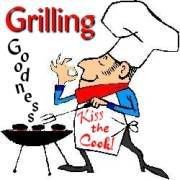 It's that time again...Time for some more
"Grilling Goodness."
If you would like to join in all of the fun, just click
here
.
Tina
would love to have you all participate!
Now, on to the grilling.....
1. How many Christmas parties have you attended or will you attend?
Hmmmm, let me see. Oh, that's right.
None.

I mean if you don't count hanging out with my family on Christmas as a party.
2. What is your favorite dish to take to a party?
Usually, when we are invited to a party, we are asked to bring my very famous cheese dip and chips. It is a crowd pleaser.
I'm just saying.

If you would like to know how to make this cheesy yummy goodness, click here.
3. When you're at home and your feet are chilled, do you wear socks or house shoes?
Since I have Raynaud's Disease, when it is cold I usually have socks and house shoes on. If I don't wear both, my feet turn purple and black.

I know. It's gross.

When it's really, really cold, I also have to sleep wearing two pair of socks, gloves, a sweat shirt, and a hat.

It's a very sexy look. Just ask Shannon.
;)
4. What are your plans for this weekend?
Since Tina really asked this question last Friday, I will tell you what I did this past weekend on Saturday. I went to see one of my bestest blogging buddies. You all know her as Smiling Shelly from the Smiling Shelly's Stories blog.

I went to see her new house. For some

strange reason

, Shelly wanted me to see her new house before the dust began to settle
. ;)
I had

SO

much fun at Shelly's house, but I will tell you all about that tomorrow.
5. What is the most expensive Christmas gift you are buying for your children this year?
Since my boys are 16 and 13, they just want cash for Christmas.

You know, for sentimental reasons.

And, since we are a

bit

low on cash this year, it is quite expensive.
6. Do you have a family portrait made each year?

Yes.

Absolutely.

Whether my family wants to or not.

I make them pose with me at least once a year for a family picture. We have had some professional family portraits made over the years, but my favorites are the candid ones.

Here are several of our family photos from over the years. I like to call these our "Fictional Family Photos." Why you ask? Well, it takes about forty four tries to get one good one, so by the time we get a good one, Shannon and the boys are all fussy. They are all sporting 'fictional' smiles by the last shot.

(And me too, but let's just keep that between us, Mmmkay?)
7. Do you drive your kids around looking for decorated homes?
As a little girl, I loved to drive around with my parents and look at Christmas lights. Something like this would have thrilled me to bits.
My boys, however, not so much.

One year when they were little, we decided to drive them around Crazyville to look at all of the Christmas light displays, and they were less than impressed.

They were critical even.

Daniel grumbled from the back seat, "This is dumb. And besides, we're just wasting gas."

*Sigh*
8. What is your least favorite thing about cold weather?
Refer back to question number 3.
;)