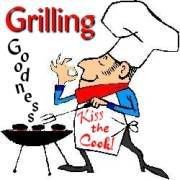 It's that time again...Time for some more
"Grilling Goodness."
If you would like to join in all of the fun, just click
here
.
Tina
would love to have you all participate!
Now, on to the grilling.....
1. What pain reliever do you swear by?
The kind that they give you in the hospital.
;)
2. Have you gotten up-to-date with a flat screen HDTV?
Yes, we have. All the better to see Tristan with I like to say.
;)
(Psst, Tina, have you watched the movie yet?)
3. Have you honked at anyone lately?
Not really. Mostly people just honk at me.
So, I just yell out the window, while waving wildly, "Go around, go around!"

Seriously, just ignore me.
4. What is your favorite household product?
I love all of my

Swiffer

products. They are wonderful.
Without the help of these little miracle workers.....
.....My sweet little house might be taken over by dust bunnies.
5. What is the earliest you've gotten up this week and why?
I get up early almost every morning with Shannon. The alarm usually goes off by 4:30am. But we usually stay in bed until 5:00am. Why so early you may ask? Well, watch this clip and you'll find out. (It's only 30 seconds long.)
LOL!:) I'm just teasing, Shannon. You know my world revolves around you.;)
I love you, Baby!
6. Do you travel out of town for Christmas?
No, we just spend Christmas in Crazyville with our family. But when I was a little girl, we used to spend Christmas with my granddaddy at his house.
I loved him.
And he loved me.
*Sigh*
7. Have you been listening to Christmas music? (Favorite?)
Yes. I listen to Christmas music every single day from Thanksgiving to Christmas. I love all Christmas music. Here are just a few of the songs that I love to sing along to. Much to my family's dismay, of course.
8. When do you exchange gifts with family?
We open some gifts on Christmas Eve, but mostly we wait until Christmas Day.
However, the most important gift of all on Christmas, you must simply open your heart for, and you can open it at any time.
Luke 2:11
"Today in the town of David a Savior has been born to you; he is Christ the Lord."
Merry Christmas to all of you!
God Bless,
Amy
:)