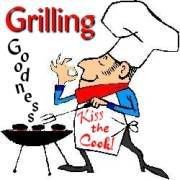 It's that time again...Time for some more
"Grilling Goodness."
If you would like to join in all of the fun, just click
here
. Tina would love to have you all participate!
Now, on with the grilling.....
1. The World Series has begun...do you watch it? (And do you care who wins?)
Hmmm, let me see, no and no. I do enjoy a good baseball game, but my sweet hubby does not, so I no longer keep up with baseball. However, when I was a teenager, I loved baseball. I was a Chicago Cubs fan.

Specifically I was a Greg Maddox fan. I appreciated all of his baseball related skills.
Well, okay, who am I kidding here? I thought he was a full blown hottie! There...I admitted it to the tens of you reading this right now. I had a

BIG

crush on him, but in my defense, he was very good looking at his job.
Just look at all of that talent out on the field.
I'm just saying is all.
2. Is the inside of your car clean or 'garbage dump filthy'?
Neither. But I'll let you decide what you think, but I'm asking that you please, be nice!
The front seats....


The back seats.....
The driver's side floorboard....
.
Since I am generally the only one who drives this car, I can't even blame the dirt on any one but myself.

Sigh.
3. Who is the next person in your family to have a birthday?
That would be my brother, John. He will be 27 on November 16th.

Wasn't he the cutest thing?
If it's all the same to you, let's don't mention to John that I showed you all these pictures. Thanks!
;)
4. Do you wear glasses or contacts? (How old were you when it became necessary?)
I have worn both, but mostly, I just wear glasses. I don't remember exactly how old I was when I got them, but I do remember something about having to wear them so that I could clearly see road signs, other cars, and pedestrians, and I think Kenny may have said something about me needing glasses the first time I left the house looking like this.
;)
5. What is your major form of exercise?

I don't completely understand the question. ;)

I'm teasing, of course. But seriously, when I am not busy having back surgery, back pain, nerve damage, and limping, I love to walk. I walk outside when I can, but mostly I walk along to Leslie Sansone's Walking DVDs. Like this one.
I also like to ride my recumbent bike.
(Mainly because I can sit and watch television while I ride it.)
6. What is something you could do to make your spouse's day easier today?
Shannon is a very easy man to please, so he appreciates all of the little things that I do for him each day, but since you asked, I would probably have to say that Shannon would appreciate me being a little less like Roseanne.....
And a little more like June here.....
I'm working on it.

Sigh.
(For the record though, my family looooves the Roseanne show. We

heart

the Conners. We just wish that our house looked more like the Cleaver's, as opposed to the Conner's.)
7. How much is gas where you are?
When I got gas last week, it was $2.34 a gallon.
I miss the days when it was $1.25 a gallon.

*Sigh*
8. What is the furthest away from home that you've ever traveled?
As most of you already know, the furthest that I have traveled is to the Mediterranean (click here).
I try to get over to that part of the world every thirty-eight years or so.
;)