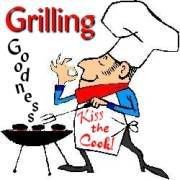 It's that time again...Time for some more
"Grilling Goodness."
If you would like to join in all of the fun, just click
here
.
Tina
would love to have you all participate!
Now, on to the grilling.....
1. Have you ever ridden a horse?
Yes, I have ridden on a horse. When I was a little girl my granddaddy had a horse he let me ride on. The horse was named Sugar.
And then there was this one time (I shudder even recalling it) when I was a teenager that I got on a horse. Only, I didn't know that you were supposed to hold on to the reins the

whole

time that you were riding on the horse. I learned this though as the horse ran us up in between two trees.
Shudder.
2. Have you ever run out of gas?
No. I have not ever run out of gas. I am the type of girl that is always paranoid about running out of gas. I think I'm practically on empty when I am down to only half a tank of gas.
I have a HUGE fear of running out of gas. I have nightmares about it even.
Of course, in my nightmares when I am running out of gas, I look like Jessica Simpson, and there are plenty of paparazzi around that are willing to help me......
....but, it still freaks me out.
3. How many different schools did you attend growing up?
Several.
I went to one school for kindergarten, where all did was sit, sit, and sit. LOL!:) (That's a little family joke, right Mom?)
Then I went to a small private Christian school from the first through eighth grade.
It closed down, so my parents sent me to another private school, which I hated for a solid year and a half. After a year and a half of complete and utter misery, I woke up one morning and informed both of my parents that I was NO longer going to go that *&$! hole anymore!
So, I proceeded to get myself enrolled in an optional program in a public school in the area. In order to go to this school, I would have to be accepted into their art program. I got my art portfolio together, made an appointment for my mom, dad, and I to meet the principal and art teacher, and I even arranged a ride to and from school for myself. (This is a true story.) I finished the last two and half years of high school at that public school, and I loved every minute of it!
And Mom and Dad, I'm sorry that I put you both through all of that stress, but thank God, it worked out well. As Matthew says all the time, "Romans 8:28."
4. Do you have, and use, a library card?
Yes, I have library card. I have used it, but not so much in the last six or seven months. But now that I am done with all of my bed rest nonsense, I will probably be a regular at the Crazyville library.
5. Hand-wash or dishwasher?
I hand washed dishes for the first thirty-five years give or take of my life.
Then one day, I just decided that I had had enough, and I demanded that my sweet husband get me a dishwasher.
And God love him, he did.
It was love at first sight.
Just between you and me, as soon as I laid eyes on that beautiful piece of modern machinery, I started to hear Etta James singing in my ears....
♫
"At last, my love has come along
My lonely days are over
And life is like a song
Oh, yeah, at last
The skies above are blue
My heart was wrapped up in clovers
The night I looked at you
I found a dream that I could speak to
A dream that I can call my own
I found a thrill to rest my cheek to
A thrill that I have never known
Oh, yeah when you smile, you smile
Oh, and then the spell was cast
And here we are in heaven
For you are mine
At last"
♫
It's a love affair that I hope will last forever.
Sigh.
6. Does your alarm clock beep or play music?
Neither.
My alarm clock shakes me and says in a very sexy voice, "It's time to get up honey!"
;)
7. Do you know how to roller skate?
I used to go roller skating all the time when I was in the fifth and sixth grade; I could roll with the best of them. And I was obsessed with the movie called

Roller Boogie

. Do you remember it?
It was like

Saturday Night Fever

on wheels. I loved it; it was SO romantic. You just gotta love the seventies, amen?
Anyway, the last time that I went roller skating was when my boys were little. It had been a looooong time since I had been on roller skates, and I don't know if it was just me, but the skating rink floor seemed really slippery. Like ice or something.
I put on my skates. Stood up. Fell down. Stood up again. Made my way to the ice rink and attempted to skate with my son Daniel.
Unfortunately, the whole experience did not play out like I had planned. After about 2 1/2 seconds on the ice rink, I started to go down. I panicked a bit. I grabbed for my son and took him down with me.
It was

SO

embarrassing. And dangerous for all involved. I have since retired from the sport.
8. What would you consider one of your biggest accomplishments?
I guess that I would have to say that my biggest accomplishment is homeschooling my boys for all of their school years so far. Matthew is in the eleventh grade, and Daniel is in the eighth.
Some years were so difficult for all of us, but we stuck with it. We didn't give up. And as a family, I feel like this a HUGE accomplishment.
The first years were the most difficult for me personally, because of all of the criticism that I faced from family, friends, and other home school families. I sometimes felt like a pioneer, of sorts.
Looking back on the comments that caused me so much confusion and doubts is very funny to me now, but at the time, it was very difficult. Sometimes home school moms can be quite the judgmental bunch, and I felt the judgment many times. I found this cartoon that I absolutely could have written myself many years ago.
If you are a home school mom (or even if you're not), I hope that this will make you laugh out loud like I did.