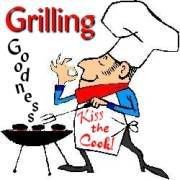 It's that time again...Time for some more
"Grilling Goodness."
If you would like to join in all of the fun, just click
here
.
Tina
would love to have you all participate!
Now, on to the grilling.....
1. If you could have done something different in 2008, what would it be?
While in Sicily, I would have had a second cannoli.
Mmmmmmmmmm.
2. What is something that you know will happen in 2009?
I love what Benjamin Button's mother in

The Curious Case of Benjamin Button

has to say about the future: "You never know what's coming for you."

I'll have a little more about that movie on my Wednesday post.
3. What is something that you hope will happen in 2009?
I have several things that I would like to see happen

in my life

, but I won't bore you with all of that nonsense. However, once my back is all healed, I

hope

to finally get my house completely organized and keep it clean all year.
Shannon is all for this

hope

of mine.
;)
4. Do you already have a vacation planned for this year?
Shannon says that I have done enough traveling for a while.
But I may try to get back to the Mediterranean in another 38 years or so.
;)
5. Are you relieved that the holidays are over?
I am glad for life to get back to "normal," but I have to admit, I will miss listening and singing along to my Christmas music all the time.
6. Did you make a resolution? Will you share it?
I have many things that I want to improve on this year

in my life

, but it is basically a long, long, long, very boring list. And since I don't want to put the tens of you who read this blog completely to sleep, I won't be sharing that today.

I will, however, share something that I saw on my friend Amy's Facebook page that really spoke to me. It is a quote from Nancy Leigh DeMoss, and it is full of wisdom that I hope to carry with me through 2009.

So without further ado, here it is:

Once we settle the issue of why we're living, all of life takes on a different perspective. Once we settle the issue that:

It's not about me.
It's not about my convenience.
It's not about my comfort.
It's not about my happiness.
It's not about who likes me, who accepts me.
It's not about, "Am I fulfilled in what I'm doing here in life?"
All that matters is that God is glorified, that He is pleased with my life.
Then we can endure and bear up under circumstances and challenges that we might not otherwise be able to face if we know that, "My sole purpose for living is to bring glory to God."

~Nancy Leigh DeMoss
7. How old will you turn in 2009?
But let's just keep that between us, Mmmkay?
8. What did you do to celebrate the New Year?
I got all dressed up and beautiful......
...and rang in the new year with my sweet hubby at home!
;)
Just a few more things.

There is an awesome giveaway going on at $5 Dinners.com. If you are interested in winning a $25 Kroger gift card, hop on over here and enter the contest.

Nikowa at the Knowledge House Academy blog is also having a book giveaway. If you would like to win a book, click here to enter.

And last, but certainly not least, don't forget to click on the link on my side bar that says: Angela's Birthday Bash. She is giving away a prize every day this week in celebration of her birthday at her blog called Becoming Me.

Good luck to all of you!