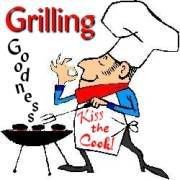 It's that time again...Time for some more
"Grilling Goodness."
If you would like to join in all of the fun, just click
here
.
Tina
would love to have you all participate!
Now, on to the grilling.....
1. Do you like scary movies?
Very much! Scary, suspenseful type movies though, not gory! I like to be on the edge of my seat, but I do not enjoy blood bath type movies. They make my stomach sick.
Here's a preview of one that I really love. It's creepy......
Shudder.
2. What kind of cell phone do you have?
Compared to all of the new fancy phones that everyone else is carrying these days, my cell phone is very similar to a World War II walkie talkie.
I'm just saying.
3. Do you have a passport?
Yes, I do. I had to get one to go to the Mediterranean with Melissa. And thankfully, it has a much better picture of me than my driver's license does. But that is for another embarrassing post.
4. Has anything sad happened in your life this week?
Not this week. Thank You, Jesus!
5. Have you ever broken any bones?
Although I apparently tried many times throughout my childhood (my parents even nicknamed me "The Emergency Room Kid," because I always seemed to end up there), I never broke any bones.

Okay, well that's not entirely true, but let's just keep this between us, Mmmkay?

I did fall this one time and sort of fractured my tail bone when I was about 10 or so. (I try not to think about it, because even at that young age, it was very humiliating to have an x-ray of my bottom on display for the entire emergency room department to gawk at. But I digress.) I had to sit on a pillow for quite a while after the fall, until my tailbone healed.

It still bothers me even now that I am almost 40 older. When the weather changes, it really hurts. I have even been to known to predict the occasional snowfall. Shannon likes to tease me about it. He calls my weather prediction ability: Rectal Radar. LOL!
:)
You know what, let's just forget that I even mentioned this, okay? Thanks!
6. Did you do anything this week that you don't normally do?
No. All I did was light house work followed by five to six hours a day of bed rest (with good hair). But I am very pleased to tell you that I only have one more week of bed rest to go, and then, God willing, I will be back to normal! Yay, me!
7. What's the worst thing you ever had in your wardrobe?
As the tens of you who read this blog already know, I have had many fashion and hair related mishaps over the years.
But the only one that I can recall off the top of my head (and that I have photographic evidence of) was my snazzy

Hee Haw

overalls.
It was apparent from early on

in my life

that being remotely fashionable was going to be a struggle for me.
8. Did you have braces on your teeth?
Yes, I did have to wear braces on my teeth. I wore them for two and half long, long, long emotionally painful years.
Sigh.
Every time I see that picture of me, it makes me think of Josie Geller.
Bless both of our hearts.
The teenage years were painful.