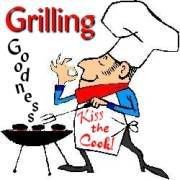 It's that time again...Time for some more
"Grilling Goodness."
If you would like to join in all of the fun, just click
here
.
Tina
would love to have you all participate!
Now, on to the grilling.....
1. What's your 'dream machine' - as in vehicle? Do you think you'll ever own it?
I am not a "car" kind of person at all, but since you asked, if I could pick any car it would have to be a black Lexus SUV. Like this one.....
And at this point in my financial future, no, I don't think I will ever own one.

Sigh.
2. Can you water ski?
Uhmmmm, no!
3. What kind of milk to you prefer?
We usually all drink fat free milk.
4. Have any of your pet peeves 'gotten your goat' this week?
So far so good in the pet peeves department this week. But come back next week and ask me again, and you might get a completely different answer.

I'm just saying.
5. How do you prepare your taxes? HR Block, Turbo Tax, by hand - or does someone else do it for you?
I have a hottie that I'm totally in love with do my taxes.
;)
And he always uses Turbo Tax.
And all he charges me is one kiss, but I usually give him several. ;)
*Sigh*
6. Did you start a workout program this New Year?

Since I have been down for the better part of six months due to all of my back nonsense.........
I am very excited to be able to workout again. I have always loved riding my recumbent bike and walking to my Leslie Sansone DVDs.
And even though I am still spending several hours okay, six in bed each day, I am finally able to ride my bike again, but due to my bad back, I can no longer do Leslie's DVDs. She does a lot of knee lifts and kicks, that are not safe for me to do anymore. So, my sweet hubby bought me a treadmill for Christmas. I can walk without worrying about hurting my back any further. And I can also watch all of my shows saved on the DVR while I walk on it.
I love it!
Thank you, Shannon.
7. Do you have a certain meal that you cook each and every week?
Earlier in our marriage I made spaghetti

every single week

, but not so much anymore. And now that we get the majority of our food from Angel Food Ministries, we have a lot more variety in our meals.

But we do have a family favorite that I try to make on a pretty regular basis. It is chicken fajita salad like they make at the Mexican restaurant Panchos.
It looks a little something like this.....
I, of course, usually skip the pink table cloth and flowers, but you get the idea. It is a family favorite, because we can each build our own salad to make it how we like it individually.

And it is very, very yummy!
8. When do you normally write your blog posts?
I don't have a normal writing time, per se. I just write whenever the ideas come to me for a post. There is absolutely no method to my madness.
;)