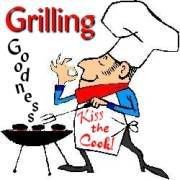 It's that time again...Time for some more "Grilling Goodness." If you would like to join in all of the fun, just click here. Tina would love to have you all participate!

Now, on with the grilling.....
1. What's the worst thing you've ever sent through the washing machine/dryer?
My cat once went for a tumble or five in the dryer.

Don't judge.

It wasn't my fault.

Really.

It wasn't.

One day as I was transferring the clothes from the washer to the dryer, the cat jumped in the dryer while I was bent over getting clothes out of the washing machine.

I never even saw or heard the cat jump in the dryer.

But once I turned the dryer on, I heard this awful noise: THUMP, thud, THUMP, thud, THUMP, thud!

After the third or fourth THUMP, thud, I realized what was happening.

I panicked slightly, but I finally remembered that I could just open the dryer door to make it stop spinning. I have never seen a cat jump out of something so fast

in my life

.

And needless to say, the cat NEVER went near the dryer again. And I NEVER started the dryer again without doing a thorough inspection for cats.
;)
2. Do you do any of your Christmas shopping online?
I have done some Christmas shopping online in the past, but this year, with all of my back pain nonsense, I may be doing a lot more of my shopping online.
3. What are you looking forward to this Thanksgiving?

My family and I have had quite the difficult year, so we are all looking forward to just being together. Period. We are all thankful that we have made it through this year, so whatever we are able to do together this Thanksgiving, we will be thankful just being able to do it.




"As we express our gratitude, we must never forget that the highest appreciation is not to utter words, but to live by them." ~John Fitzgerald Kennedy
4. What did you do before you had children that you miss doing now that you have children?
Being able to complete a sentence.

Sigh.....
5. Do you have a fireplace? (Do you use it?)
Yes. And yes. We have a gas fireplace, and once the temperatures start turning colder, we use it every single day. We love it!
6. Do medical shows showing surgeries and blood freak you out?
I used to be a phlebotomist back when Moses was a boy, so blood does not bother me much.




And one of my favorite television shows is

ER

.
But with that being said, some surgery shows really freak me out. Especially plastic surgery shows.

I cannot watch them.

At all.

Shiver.
7. How long have you lived where you live?
Shannon and I have lived in our house here in Crazyville for over 17 years.
"Home Sweet Home."
8. What is one of your favorite seasonal items?
I would have to say I love scented candles this time of year. My favorite is Pomegranate Cider by Yankee Candle.
It smells perfectly delish!