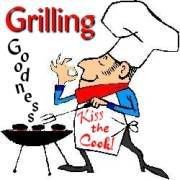 It's that time again...Time for some more "Grilling Goodness." If you would like to join in all of the fun, just click here. Tina would love to have you all participate!

Now, on with the grilling.....
1. What is one of your 'must see' tv shows?
I have about forty-five several "must see" shows, but since I don't want to bore you all to tears, I'll just share a few with you.

Shannon and I both LOVE to watch Criminal Minds; it is our favorite show to watch together for our "date" nights on the couch.
We also love a new show called The Mentalist. It is very clever.
But when Shannon is NOT watching television with me, I cannot seem to get enough of these two shows.

The Duggars~ 17 Kids And Counting....
And Jon and Kate Plus Eight....
I just cannot help myself. If these shows are on...I am watching them. Sometimes Shannon walks in the living room only to find me watching them, and he looks at me and asks, "Weren't you just watching this show yesterday?" To which I sheepishly respond, "Yes." And then he looks at me and says ever so sweetly, "Amy, we are

NOT

having 8 or 17 children."
2. Do you have a facebook page?
No, but I do have a Myspace page. You can click here to take a peek.
3. How old were you when you got married?
I was twenty-one years young, and Shannon was twenty-five years young on our wedding day.
Sigh.
4. What is one bad habit that you need to break?
I have several bad habits, but if I had to choose just one, it would be to stop picking at my split ends.
I have other bad habits that I really need to work on as well, but this one is really irritating to my family.
5. What is your favorite cold-weather activity?

Well, since I have Raynaud's Disease, when it is cold outside, I need to be inside where it is warm. So, when it is cold, I love to curl up on the couch and read a good book or watch one of my forty-five favorite shows (please refer back to question number one). Right now though, thanks to Becky and Liz, I am reading a book called

New Moon

.
I love a good vampire story full of romance and suspense.
6. At church, do you always sit in the same area?

It has been a while since we have been to church, but when we do go, we are definitely creatures of habit. We like the back row. A lot. Shannon, because he is not wild about being around a bunch of people, and me, because I can sing as loud as I want to without every one complaining.
;)
7. What do you like best about blogging?
I heart all things about or related to blogging. But if I had to say what I like best about blogging, it would have to be getting the opportunity to "meet" so many different women from places all over America, not to mention all over the globe. Blogging has made my little life in Crazyville seem not so small. I am constantly amazed by what I learn from all of the different ladies that I have had the pleasure to meet in Blogland. God made some incredibly interesting people, amen?
;)
8. What's the last funny thing you remember hearing from a child?
When Shannon and I went to the grocery store Monday night after leaving the hospital, we forgot to buy ketchup. We thought that we had plenty, but apparently we were mistaken. Our son Daniel goes through a lot of ketchup each week, so he ran out of ketchup around Thursday. We weren't going to be able to go to the store again until Sunday, so by Saturday he was really missing his ketchup. He looked at both of us on Saturday and said, "You know, I just realized, my whole diet revolves around ketchup. It's so miserable not having any. I eat everything with ketchup." LOL!:)

And you think you have problems.
;)
I wanted to let you all know that my mom got to go home Saturday. She was so happy to be out of that hospital! She will be off work until the beginning of the new year to recuperate. Thank you all so much for your prayers for her.