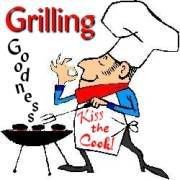 It's that time again...Time for some more "Grilling Goodness." If you would like to join in all of the fun, just click here. Tina would love to have you all participate!
Tina got this week's questions off of the Internet. They were part of a husband meme that she did in honor of her husband's birthday. She said that we could either answer these questions about ourselves or mix it up a little and answer them about our spouse!! So, since I love talking about my spouse, today's grilling is all about my sweet hubby.

Sigh.......

Now, on with the grilling.....
1. Sitting in front of the TV, what's on the screen?
I'm not kidding.

Shannon loves to watch Survivor, The Mentalist, Criminal Minds, The Big Bang Theory, My Name is Earl, and he really loves this show.......
And even though I tried really hard not to like this show, I just cannot help myself. It is very funny!
2. You're out to eat; what kind of dressing does he get on his salad?
Shannon always orders the vinaigrette dressing. He loves it.
3. What's one food he doesn't like?
Just the thought of Sushi makes him gag.
Shudder.
4. What is his favorite type of sandwich?
Shannon loves when I make him a

Steak um

sandwich with onions, peppers, and cheese. Like so.
And a side of fries does not hurt his feelings one little bit.
;)
5. What would this person eat everyday if he could?
I had to ask him about this one, because he loves so many different types of dishes. But he said that if he could, he would love to eat some form of grilled chicken

breast

every day.

I, of course, giggled, because he used the word

breast

.

Don't judge.

I live with three males. I now permanently have the sense of humor of a twelve year old boy.
6. What is his favorite cereal?
Shannon is a man who loves all foods that are healthful, so this is his favorite breakfast cereal.
He eats it almost every morning...with lots of cinnamon and honey.
7. What would he never wear?
Shannon would never be caught wearing Jerry's puffy shirt.
I'm just saying.
8. What is his favorite sports team?
Shannon does not care for any sports teams, per se, but he does love to watch UFC (Ultimate Fighting Championship). And Matt Serra is his favorite ultimate fighter.
But Shannon's favorite sport of all is rock climbing. Just look at his form.
Oh, I do love that man.
;)