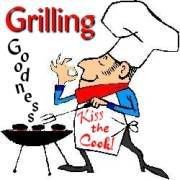 It's that time again...Time for some more
"Grilling Goodness."
If you would like to join in all of the fun, just click
here
. Tina would love to have you all participate!
Now, on with the grilling.....
1. Is there anything peculiar about the way you sleep?
Not unless you think sleeping with Allie Girl is peculiar.....
2. Are you in with the fad...do you own something with giraffe print?
As most of you probably already know, I am usually never "in with the fad." I don't own anything with a giraffe print.
The sad thing is, I rarely ever achieve the look I am going for; much less does what I wear look in vogue.

*Sigh*
3. What color do you have the most of hanging in your closet?
It's funny that you should ask that now. Most of my closet is full of the basic colors such as black, brown, and white. But now that I am having to sport this not so sexy back brace......
I had to get some shirts that would cover it, and I found some at Walmart. And I liked the style of the shirt so much, that I bought one in every color of the rainbow, so to speak.
4. In the spirit of all the candy that will fly around today...what is your favorite kind of candy?
M&Ms, of course. Preferably the kind with my picture on them.
;)
Thanks, Kenny!
;)
5. Is your thumb green or are you a plant killer?
Right now, I don't have any plants in the house. I used to have a lot of plants in the house. So, what do you think?
;)
6. Do you have a crazy pet story?
You know that I do. This story took place back when I had big bangs, gold rings on every finger, and long, long, long disgusting fingernails. So, you do the math.
At this time

in my life

, I had a lot of fish bowls and a couple of aquariums in my room. One of the bowls held a single beta fish, like this one.
I had the beta for quite a while. But one rainy day, I came home from school and went into my room to feed my fish. I noticed as I entered my room, there was what looked like a red leaf on my floor. I proceeded to pick it up with my disgustingly long fingernails, and I threw it in the trash. I didn't think much about it, because it was raining so much outside. I figured I had just brought the leaf in on my shoe.

After disposing of the "leaf," I started feeding my fish. Only, when I got to the beta bowl, I noticed that it was empty. I was a little confused at first, but then it dawned on me......

I went over to the wastebasket in my room, and took a look inside it. That's when I discovered that the "leaf" that I had picked up was actually my beta fish.

Shiver.

I got goose pimples all over my body when I realized I had just picked that dead fish up with my disgustingly long fingernails.

Shiver.

And then when I thought about it for a moment, I realized my beta fish had killed itself. I wondered how many laps around the fish bowl did it have to swim in order to build up enough speed to leap out of that bowl.

Poor guy.

Sigh.
7. Did you ever tight-roll your jeans?
I never tight rolled them, so to speak, but I definitely did my share of "tapering." I would bring my jeans home from the store, and immediately began begging my mom to "taper" them. So, she would. Only, I would always want them more tapered. So, she would have to "taper" them a little more, and a little more than that sometimes.




The only problem was that I would have her "taper" them so tightly, that my foot would no longer even fit through the hole at the bottom of my jeans.

You know what, just refer back to question number 2.

And just so there is no confusion, no, that is not a picture of me in the blue jeans. My thighs and hips were never that small. I came out of the womb wearing larger jeans than that.

I'm just saying is all.
8. Does your family read your blog?
My mom reads it every day. (Thanks, Mom!)

My sweet Shannon reads it when I force him to.;)

And the only other family member that I know of that reads it is my cousin Vann. Hi, Vann!;)

I guess the rest of my family gets enough of my nonsense in real life.
One more thing before you go, today is the day of my mom's knee replacement surgery. She is supposed to be at the hospital at 8:00am, and the surgery is supposed to take place 10:00am. The procedure should take about four hours to complete. I will, of course, be at the hospital all day waiting with my dad. The doctors told her that depending on how she does, that she could be in the hospital anywhere from three to five days. So, if you feel led to do so, please say a prayer for my mom and my family. And I will try to post an update tomorrow to let you all know how she is doing. Your prayers mean so much to all of us.
Thanks so much!
God Bless,
Amy:)
Exodus 15:26b
"....for I, the LORD, am your healer."